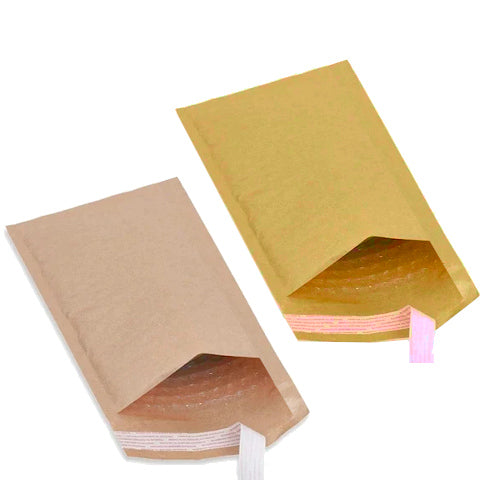 ---
---
Air Bubbles 🟤 | Ext. 7" x 9.5" | Int. 6.25" x 9" — 250 per case

Foam Bubbles 🟤 | Ext. 7" x 9-3/8" | Int. 6" x 9-3/8" — 250 per case
---
These bubble-padded mailers are made of 100% recycled materials, be it their bubble padding or their kraft paper exterior. For a super eco-friendly option, consider the foam bubble mailers. Their foam padding is made of fully recyclable wood-derived pulp.
Their lightness and flexible texture allow for savings on shipping costs.
No adhesive tape required, these mailers are self-sealing!
Tamper-evident closure.
The smooth interior of these envelopes allows for easy insertion and high productivity.
Meets Canadian and US postal standards.
Custom sizes available. We invite you to contact us with your desired dimensions.
Our bubble mailers are customizable. We offer the option to custom-size or to custom-tint the mailers to any colour of your liking or to custom-print the name of your company, your brand's logo or any other pattern of your choice. We invite you to view our
custom bubble mailers
page to learn more about our customization options.
🟤Brown Mailers
🟡Golden Mailers