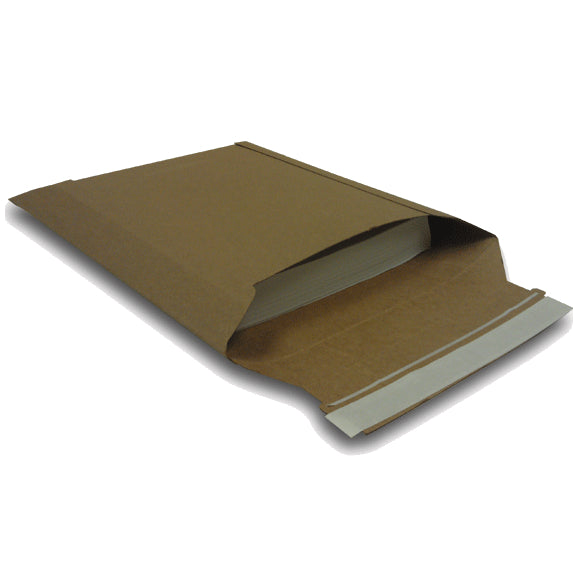 ---
---
---
Shipping mailers made of rigid corrugated Conformer

®

cardboard for a robust protection of your product.
Unbendable and uncreasable.
Start out flat and expand vertically to accommodate your product.
No adhesive tape required! These self-sealing mailers are closed by simply folding over the adhesive flap over the opening.
No knives or scissors required for opening. These mailers have a convenient tear-away strip for easy opening.
Recyclable and made of recycled paper.
Custom sizes and thicknesses available. We invite you to contact us with your desired dimensions.
Our cardboard shipping mailers are custom-printable. Customers have the option of having their company name, their brand's logo or any other graphic of their liking printed on the mailers. It is worth noting however that printing on cardboard mailers is considerably labor and time intensive due to the type of printers involved. This is the reason why printed cardboard mailers aren't frequently encountered in the real world. Due to the aforementioned high fixed cost of printing, the price of printed cardboard mailers can easily be 3-5 times higher than the price of blank ones, depending on the quantity purchased. Hence, although in theory our cardboard mailers can be printed at quantities as low as 1000, most customers in practice opt for higher quantities due to the significant volume savings.
For printing options and pricing we invite you to
contact us
for a personalized service and quotation.